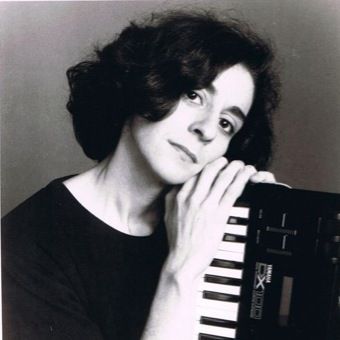 "THE RESIDENT GENIUS"
Linda Hudes is a composer, arranger, keyboard player and band leader from New York City. She has arranged and performed her music for use in rock clubs, concert halls and with symphony orchestras, and has recorded her music for film, dance, radio and advertising. Her compositions range from three-minute songs to two-hour scores and are heard worldwide.
Linda's groundbreaking band, Linda Hudes Power Trio, termed "rambunctious" in The New York Times, consists of keyboards, electric trumpet and drums. The band performed her original instrumental classical rock during the punk rock era at CBGB, Mudd Club, Max's Kansas City, Danceteria, Art On The Beach and The Coney Island Boardwalk. (At the iconic CBGB, 315 Bowery, home to Patti Smith, Talking Heads, The Ramones and Madonna, Linda Hudes Power Trio rocked so hard that they were invited back many times by owner and impresario Hilly Kristal. At CBGB, 315 Bowery, Linda's great grandfather owned Hudes Pharmacy in 1900.)
To accommodate a growing composition and arranging style, Linda expanded The Power Trio into the band "Power And Glory", a large ensemble of up to 12 musicians including strings, percussion, electronics and horn section. The band's neo romantic/post modern music led to collaborations with modern dance and ballet companies for performances at Dance Theater Workshop, Merce Cunningham Studio and Central Park Summer Stage. Linda received numerous commissions from Meet The Composer and The New York State Council On The Arts to create new works. Her scores, both live and recorded, have been performed in Paris, Monte Carlo, London, the Caribbean and The Philippines.
Simultaneously, Linda's classical/rock keyboard playing was featured throughout the U.S. and Europe during live performances with bands from New York's innovative Downtown New Music scene. She was featured on grand piano and multi-electronic keyboard rigs at performances at The Brooklyn Academy of Music, Lincoln Center's Avery Fisher Hall, The Public Theater and La Mama. While touring European music festivals, Linda was greeted by crowds chanting for "the girl piano player."
Linda's bands and music rocked NY clubs, theaters and art events, and brought her to the attention of local cultural institutions. She was invited to become composer in residence at New York's Big Apple Circus, a position she held for eighteen years. Linda thus became the first female composer of any circus, and a significant contributor to the renaissance of circus as a revered and respected theatrical art form in America. The cutting edge, two-hour, theatrically thematic scores that Linda composed and arranged annually for that show, utilized the sounds, scales and structures of global music, and made Linda a pioneer in the World Music genre. This was music for circus, NOT circus music.
Linda's music education and exposure were exclusively classical. She was immersed in the repertoire resulting in an approach to popular composition that is singularly non-derivative.
Linda's numerous scores were hailed in press across the country as: "brilliant, breathtaking, captivating, propulsive, superb, wondrous, magical, excellent, powerful, romantic, rich, melodic, different, special, bizarre, colorful, strong, lush, unconventional, experimental, from hip hop to opera, hard rock, pulsing, joyous, creative, tight, superlative, ethereal, perfect, driving, transformative, great, new, mood-evoking, invigorating, original to the corp."
These scores contributed to the Big Apple Circus being the first and only circus to receive a prestigious National Endowment For The Arts Award. Linda's musical and theatrical impact was acknowledged at each of the shows 350 annual performances when she was introduced as "The Resident Genius." 
Linda's music, from funk to power ballad to romantically melodic has been featured in film (Woody Allen's "Alice"), television (Evening At The Pops, Macy's Thanksgiving Parade), symphony orchestra (Boston Pops, Little Orchestra Society), advertising (NY Giants, Dreyfus Investments), and radio (BBC, NPR, WGBH, WNYC). 
Feld Entertainment, producer of Ringling Brothers Circus, Disney On Ice and Siegfried and Roy, honored Linda's ability to capture a feeling and uplift a show by commissioning her to compose a two-hour score with the direction, "Be Different. Be creative." The result was "Barnum's Kaleidoscape" which toured major cities throughout the U.S. for two years, ending with an extended NYC run. 
Linda opened satellite music studios in Miami and Sarasota, Florida. In Sarasota, she served on boards of arts organizations as an advocate for embracing the new and creative in the arts as a means to refresh the traditional. She composed for and performed in theaters, concert halls and art galleries with her new band, "The Florida Fountain Of Youth Orchestra", which also performed for hurricane relief efforts. 
Linda has given workshops on the creative process, and taught composition, piano and creativity to professionals, individuals, businesses and students of all levels. She has been a featured artist in Keyboard and Mix Magazine, and featured in articles across the U.S. She has endorsed of Korg Synthesizers. 
Throughout these musical endeavors, Linda's bands were made up of the countries finest musicians. Legendary trumpeter Rik Albani (Talking Heads, Wilson Pickett, Four Tops, Jazzmobile) has been both featured player and Music Director for all of Linda's bands, selecting a stellar array of talent to bring her compositions and arrangements to life: Bob Riley/Drums+Programming (Madonna, Brian Wilson); Brian Delaney/Drums (New York Dolls); David Van Tieghem/Percussion (Laurie Anderson, Steve Reich); Curtis Fowlkes/Trombone (Jazz Passengers, Elvis Costello); Kermit Driscoll/Bass (Bill Frisell, David Johansen); Mark Pender/Trumpet (Bruce Springsteen, Conan O'Brien Show); Lenny Pickett/Reeds (Tower Of Power, Saturday Night Live); Jim White/Drums (Maynard Ferguson); David Wofford/Bass (Spyro Gyra, Laura Nyro); Duncan Cleary/Guitar (James Brown); Sam Furnace/Reeds (Mongo Santa Maria, Art Blakey); Laurie Frink/Trumpet (Benny Goodman Orchestra); Kenny Brecia/Guitar (Rent, Chaka Khan). These musicians, and many more, can be heard on Linda's recordings. 
Linda earned a Bachelor Of Music degree from Hartt College of Music and did advanced piano study with Madame Margaret Chaloff. She studied and played classical music exclusively from age nine through conservatory graduation, when she was reborn as a rocker chick.