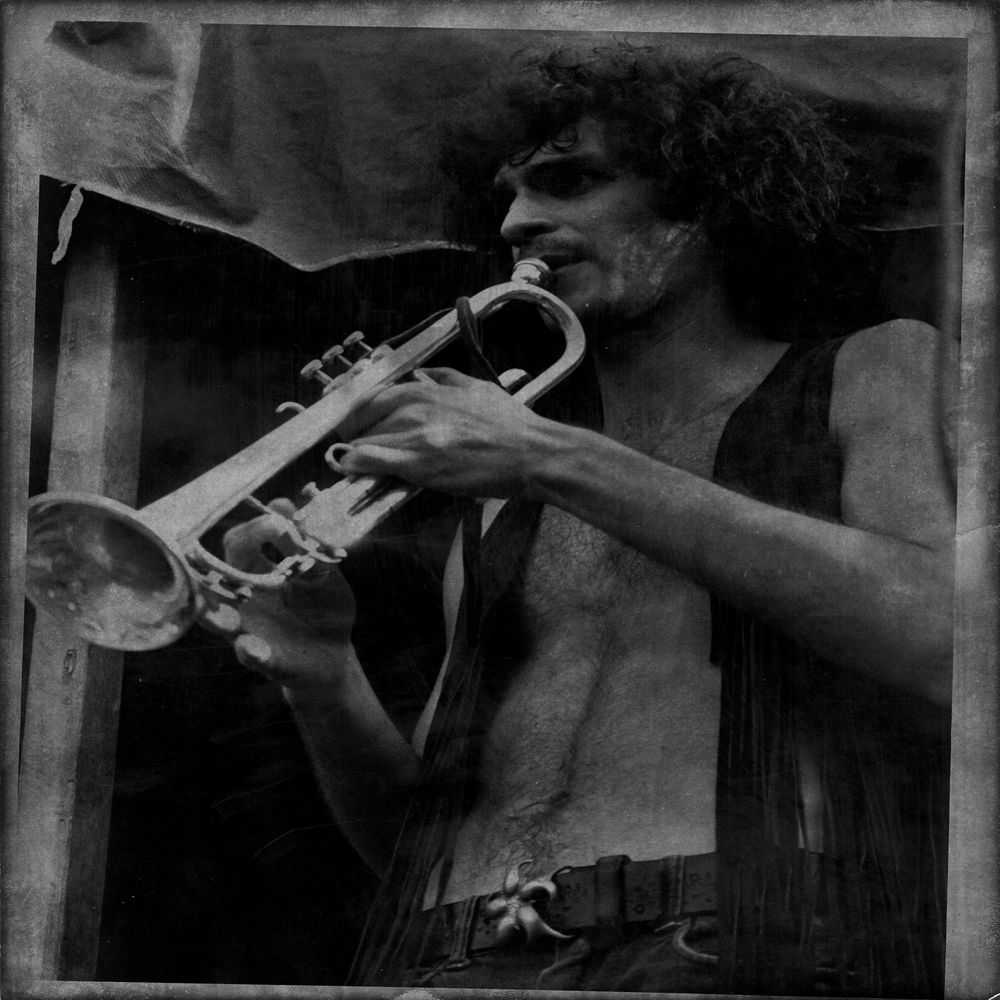 RIK ALBANI
Based in New York City, trumpeter Rik Albani has spent his career performing and creating music. During thousands of performances, Rik gained notoriety as an unparalleled trumpet player with a gift for melodic trumpet playing combined with a wild soloing style. He is also a Music Director, band leader, conductor and arranger.
After a tour of duty with the U.S. Navy Band for which he received a Naval Commendation, Rik recorded an album on Capitol Records with his original band, Sunship. This jazz/rock band highlighted Rik's brassy sound, rhythmic groove and hot trumpet solos. Sunship toured extensively in the U.S. and Canada, opening for Steely Dan, Hot Tuna, Rick Nelson, The Crusaders, and NRBQ.
Rik was deeply involved in the innovative Downtown New York New Music scene. Participation and performances in this groundbreaking milieu left Rik with a deeper understanding of wider horizons in music, where new sounds, ensembles, and forms were the goal. It was a distinctly creative era focused on boundary breaking. From lofts to Lincoln Center, Rik performed with LaMonte Young, Love Of Life Orchestra, Rhys Chatham, Arthur Russell, David Van Tiegham, Ned Sublette, Allen Ginsburg, Arto Lindsey, Peter Zummo. Rik was the only trumpet player in New York who would play a tone row concert one night, cumbias in Jackson Heights the next and Handel in a cathedral on Christmas Eve. The integration and synthesizing of the extremes is what enables Rik to hear and play in his own way.
Rik has also had the good fortune to have performed and or recorded with Wilson Pickett, The Four Tops, Talking Heads, the Brecker Brothers, Clyde Otis, Lenny Pickett, Yogi Horton, Doc Powell, Glen Valez, Bob Clearmountain, Michael Oldfield, Tom Tom 84, Lew Soloff, John Fadis, Abraham Adzenya. As a member of New York's Jazzmobile Big Band, Rik toured extensively including performing for President Jimmy Carter.
Rik's great epiphany came when he joined musical forces with his wife, composer/leyboardist Linda Hudes. It was in the Linda Hudes Power Trio and the expanded ensemble, Power and Glory, where Linda's compositions created the setting for Rik, as trumpeter and Music Director, to focus exclusively on expression, transcending all previous experience. The Power Trio—the essential (bare bones) ensemble of Linda's keyboards, Rik's electric trumpet, Bob Riley's drums— was the vehicle to create and perform some of the most innovative music heard at CBGB, Mudd Club, Danceteria, Max's Kansas City, Coney Island, Battery Park, Central Park. Never before had trumpet been the voice of a hard rocking power trio. It was a critical and popular success. The Power Trio also performed live with dance companies at Dance Theater Workshop, Merce Cunningham Studio, and created original recordings for dance companies in Europe and Asia.
It was inevitable that a broader audience would seek Linda and Rik's  musical vision. The Big Apple Circus had the fortuitous foresight to ask the duo to be their Composer and Music Director. For twenty years, their music helped transform the show into an award winning New York cultural institution. The couple, with Linda's score and Rik's band, performed at 350 shows each year including an annual three month run at New York's Lincoln Center. Linda's music washed away tradition and replaced it with a new sound fit for the Renaissance of one ring circus. It is music for circus, not circus music. Rik formed and conducted a band that became known as one of the hottest in New York. (For Rik, spirit was a job requirement.) The reaction was overwhelmingly positive.  Artists from Yo-yo Ma to Bruce Springsteen came to the Lincoln Center venue and praised the music. 
Producer Kenneth Feld asked Rik to Music Direct Linda's original score for the Ringling Bros. Show, Barnum's Kaleidoscape, and the response was resounding during a two year national tour. The Rik and Linda combination has proven to enhance a show and enthrall an audience. 
They have composed, arranged and performed with the Boston Pops Orchestra on a national broadcast of 'Evening At Pops', and also for film, television, advertising, and festivals. Whomever seeks out this Power and Glory team already knows that they will hear a sound of inspired beauty. 
Rik earned a Bachelors Degree in Jazz Studies and also holds a Bachelors of Economics and a Masters in Education. He has studied with master teachers Carmine Caruso, Jackie McLean, Neil Slater, Vince Penzarella, Laurie Frink and Jimmy Owens. In addition to his experience as trumpet player, Music Director, conductor and arranger, Rik is a skilled Latin percussionist and a music historian with a vast knowledge of jazz and popular music. 
As a proud Navy Band veteran, trumpeter Rik recently won first place among 6000 entries in the National Veteran's Creative Arts Festival. As Artist In Residence at The Performing Arts School in Sarasota, Florida and in private teaching to brass students of all levels, Rik is able to pass on the techniques of brass playing and the mysteries of music to the next generation. His message is, "Music can save the world."